Metals

We supply Special semi-manufactured Products in Metal and also in Plastic.
The Standard Materials available are:
Copper ( including Oxygen Free High Conductivity ), Brass, Bronze, Aluminium, Stainless Steel, Nickel Alloys, Nickel-Iron, Zinc, Nylon and PTFE.
The Products are supplied in the following forms:
Tube in Straight Lengths or in Coil.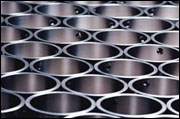 Sheet, Strip and Foil of different Thickness and Width.
Rod and Bar in various Shapes and Sizes.
Wire in many Diameters.
The Services offered to our Customers include: Heat Treatment, Cutting, Bending, Machining, Polishing and Coating.
Please contact us if you have a Special Metal Requirement - a wide Range of other Materials and Sizes is available and we will be pleased to assist you.