Microwave

Flexible Waveguide and Rigid Waveguide are supplied in straight lengths or as finished Components covering the Frequency Range: 1 – 110 GHz.
Flexible Waveguide Components can be manufactured with Flanges, Neoprene Jacket and Silver Plating.
Special Flex-Twist Components are produced.
Rigid Waveguide is available in Copper, Brass, Bronze, Aluminium, Invar and Stainless Steel:
Rectangular ( WR650 WG6 R14 – WR10 WG27 R900 ), Circular and Double Ridge.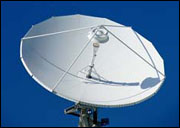 Rigid Waveguide Components are usually manufactured in Copper and Bronze:
Standard Bends ( 45° , 90° ), Offset Bends, Transitions, Twists with Flanges and Paint Finish.
Electroformed Components in Nickel are manufactured, where special designs are required.
Brass Flanges and Gaskets are available to International Specifications.
We supply Plastic Covers for many types of Flange.
A range of Precision Nuts and Bolts made from Stainless Steel is offered.
Special Requirements in Flexible – and Rigid – Waveguide and Components can be manufactured to the customer's own specification.